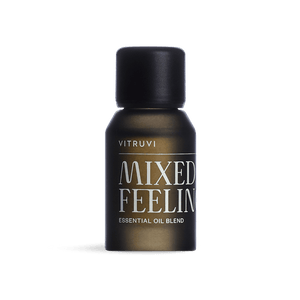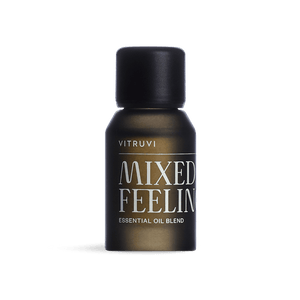 On Sale
VITRUVI - MIXED FEELINGS BLEND
An unanswered question.
Mixed Feelings is spicy and sweet. With a top note of Bay Laurel and bottom notes of Cardamom and Ginger, it smells like the beauty of uncertainty. Like a cinnamon candy or a flash of nostalgia, its bold juxtaposition is its power.
Rosemary (Rosmarinus officinalis)
Eucalyptus (Eucalyptus globulus)
Black Pepper (Piper nigrum)
Cardamom (Cardamomum)
Ginger (Zingiber officinale)
Cinnamon (Cinnamomum zeylanicum)
Bay Laurel (Laurus nobilis)
Siberian Fir (Abies siberica)
Cassia (Cinnamomum cassia)

100% pure, vegan, and cruelty-free. Free from synthetic fragrance, sulfates, parabens, formaldehydes, phthalates, and mineral oil.