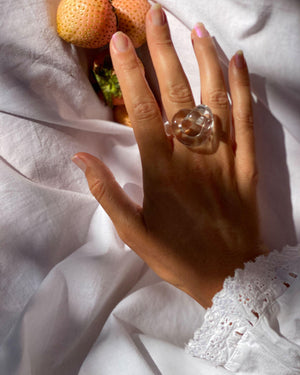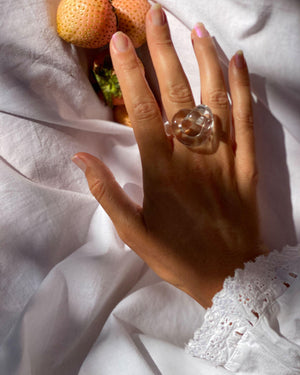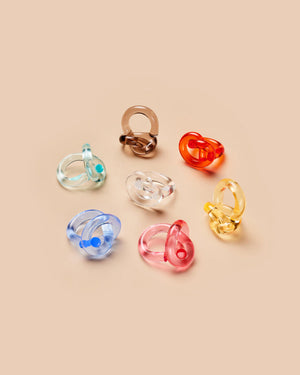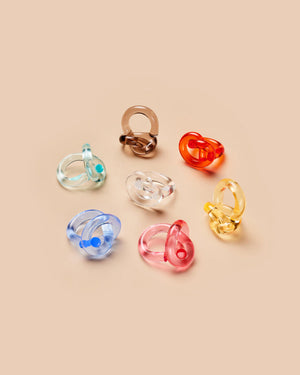 On Sale
PRETZEL RING
A knot of Lucite forms an abstract heart, impossible to unravel. Made in Toronto
Dimensions: 1.375" x 1.125", ¼" thick
Material: Lucite
*smoke is the top middle color next to the orange
Sizing Guide for Rings 
If you are unsure about your size, feel free to contact us and we will do our best to help you. :) See charts below for measurements.
Tip: to find your ring or bracelet size, measure the inside diameter of a piece of jewelry you already wear and compare it to our measurements.
These are handmade products, so there may be slight size differences.
Rings
| | | |
| --- | --- | --- |
| Corey Moranis Size | Ring Inside Diameter | Approximate US Ring Size |
| small | 16 mm | 5.5 to 6 |
| medium | 17 mm | 6.5 to 7 |
| large | 18 mm | 7.5 to 8 |
If you treat your piece with care, it will stay nice and shiny.
Storage
Store your jewelry in a soft bag to protect it from scratching. Lucite is resilient, but try not to crush or drop your piece. If you're traveling with your piece, protect it in your luggage by keeping it away from other hard objects.
Degeneration
Lucite can have a negative reaction when exposed to products that contain chemicals, especially alcohol. For best long-term condition, avoid contact with perfumes, sunscreens, cleaning products (even glass cleaner), soaps, hairspray, and cosmetics. Saltwater and pool chemicals may cause degeneration, so remove your jewelry before swimming. It's also a good idea to store your jewelry away from sunlight and high heat, such as candles.
Cleaning
It's natural for a well-loved piece to get a bit dirty overtime; fingerprints and smudges can accumulate on surfaces. If you notice your piece isn't sparkling, use a touch of water and a soft, non-fuzzing cloth to wipe it clean and polish the surface.