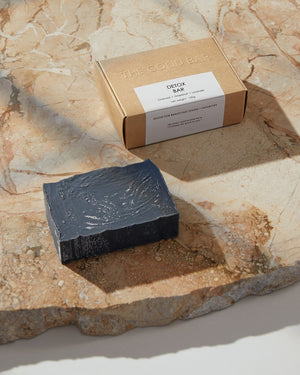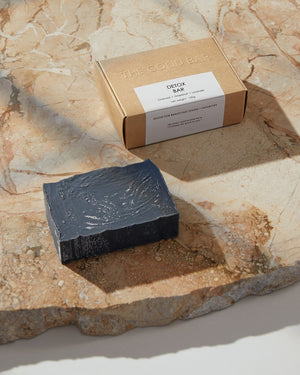 On Sale
DETOX BAR
Charcoal + Lavender + Grapefruit
Good for removing toxins and impurities

Human skin is a permeable layer that absorbs dirt and toxins from the environment. These contaminants are especially problematic for people with skin sensitivity and conditions like eczema and psoriasis. This is where an activated charcoal soap helps detoxify skin. The charcoal pulls out dirt, toxins, and bacteria like a magnet, leaving skin naturally clean without any harsh chemicals. This bar contains lavender and grapefruit essential oils, which are known for their antifungal and antibacterial properties. Coconut & sustainable palm oil help fight against free radicals, while the high olive content leaves skin moisturized for a more youthful glow.

Ingredients: coconut oil, olive oil, canola oil, sustainable palm oil*, castor oil, sodium hydroxide**, lavender essential oil, grapefruit pink essential oil, activated charcoal, water
*sustainable ingredient
**none remains after saponifying oils into soap & glycerine