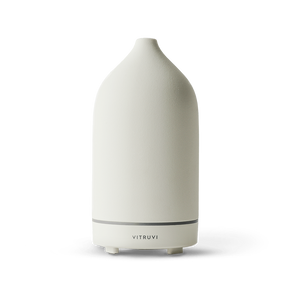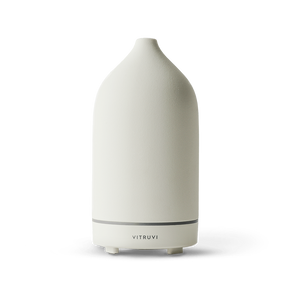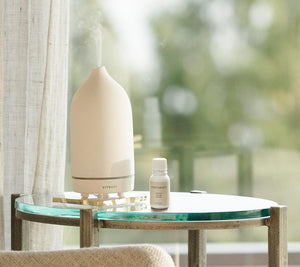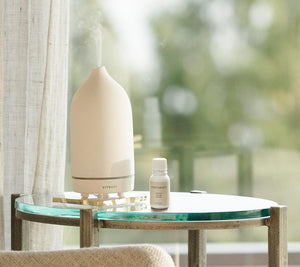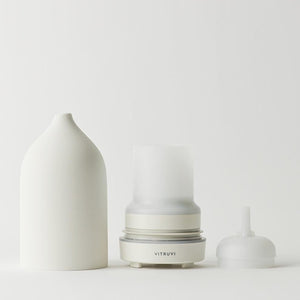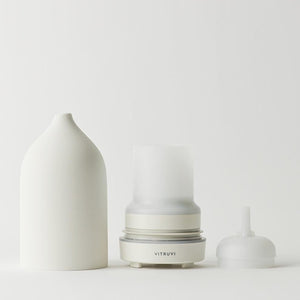 On Sale
VITRUVI STONE DIFFUSER - WHITE
The classic one.
The Stone Diffuser scents your home and looks beautiful while doing it. With a cover crafted out of matte ceramic, it doubles as a piece of decor—making it perfect for bedsides, countertops, and shelves.
Fill up the water reservoir to the fill line. Add 20-25 drops of 100% pure essential oils, then put the plastic cap and ceramic cover back on, and select your time setting.
Materials: Porcelain cover. BPA-free plastic water reservoir.
Technology: Ultrasonic: 2.5 vibrations/second. Comes with a five-foot-long power cord that must be plugged in for use. Voltage: 120-240 v.
Run time: Two settings: consistent 4-hour and intermittent 8-hour.
Specs: Width: 8.7 cm. Height: 18 cm. Weight: 1.1 lbs.
Misting output: Consistent: 1 fl. oz./hour. Intermittent: 0.40 fl. oz./hour.
Diffusing capacity: 500 sq.-ft.
Safety: Automatically turns off when time is up or water runs out.
Power cord: Compatible with North American outlets. Orders outside of North America require a plug adapter.